Are you trying to add an electronic signature to PDF document?
If yes, then congratulations, you have landed at the right place.
Isn't that right?
Whether you like it or not, the world has changed dramatically.
If you do not adapt to changing times, you will fall far behind your competitors.
Whether in your personal life or in the corporate sphere, you must keep up with changing times in order to get an advantage over others.
Adding an electronic signature to PDF document has been widely used in many aspects of life.
If you are not an early adopter and want to take your time before embracing new technologies, here is some bad news for you: By not adding electronic signatures to PDF documents, you are losing various major assets, and your money is being squandered mercilessly.
Enhance your document management and team collaboration. Learn how to create an electronic signature in a PDF document to complete transactions faster and more securely.
Supplement Your Remote Working and Go Paperless With E-Signature Adoption
WeSignature is an electronic signature service for small businesses that enables quick, productive, cost-effective, and legally compliant document signing process. Adopt this solution today and transform your business completely.
An electronic signature is a means of acknowledging the document in a digital sense. If you are looking for a way to add an electronic signature to a PDF, then let's understand the guidelines on how to insert an electronic signature in PDF.
Sounds good!
But first, it is important to discuss the meaning of electronic signatures and the work processes of inserting an electronic signature in a PDF document.
What is an Electronic Signature and How Does It Work?
An electronic signature for business is nothing but a mathematical method of validating the authenticity of an online official document, software application, or message.
It offers much better security and also solves problems linked with fraud, tampering, or impersonation.
Working of Electronic Signature PDF
A document is uploaded by the sender so that it can be sent to the receiver on the internet.
Once it is sent, a cryptographic hash gets generated with the private key which is then appended to the document.
The online encrypted document is sent to the receiver with the public key of the sender.
The receivers can then decrypt the hash with the public key and create a cryptographic hash for a similar document.
These hash values must be similar to each other for ensuring honesty.
How to Add an Electronic Signature in PDF?
Electronic signatures are one of the quickest and easiest methods to sign a PDF or other kinds of documents.
There are no meetings, no calls, or occurrences where one needs to reschedule an appointment.
A good online signature service will support almost all kinds of document file types from most applications. This is to make sure that all-important documents can be sent for signature.
To add an electronic signature to a pdf, take the following steps:
1. First, you have to start by registering yourself or making an account on a reliable electronic signature software like WeSignature.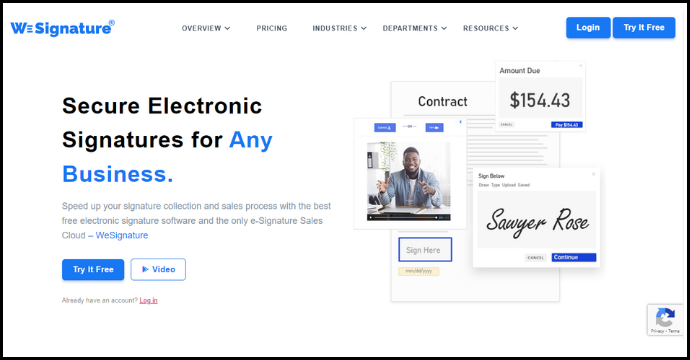 2. Next, sign in to your account.
3. Select the option of "Sign Document" and upload the PDF document.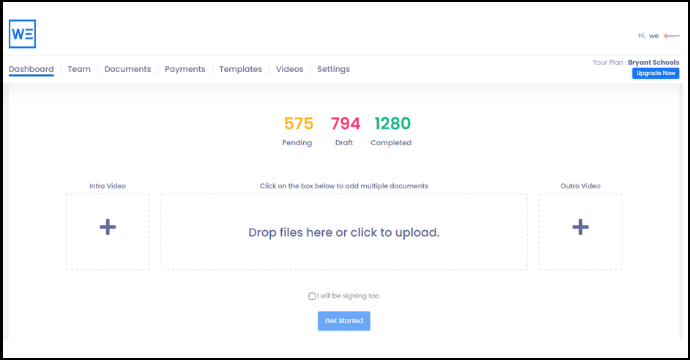 4. Now you can drag and drop the online signature.
5. After you are done, sign the document and click FINISH so that the PDF is automatically returned to the sender.
Adding an electronic signature to a PDF document is as easy as opening a window system.
Benefits of Adding Electronic Signature to PDF Document
☞ Reduce Cost
Electronic signatures check the usage of papers, ink, and postal charges leading to a huge reduction in cost.
☞ Faster Closures
Adding an electronic signature to a PDF document ensures quick closure of deals as the act of signing usually takes just minutes instead of days.
☞ Compatibility
A majority of the esign pdf free versions are ensured to be compatible across multiple devices and operating systems.
☞ Easy Integration
Portals that support electronic signature pdf creation have standard APIs that easily get integrated into most of the existing platforms.
☞ Traceability
An electronic method of authentication supports tracking wherein the status of the document that needs to be signed can be monitored in real-time.
☞ Global Accessibility
e-sign pdf is accepted as valid in legal terms all across the globe making it highly accessible at a given point in time.
☞ Streamline Workflow
The process of adding an electronic signature to a PDF document can be well-controlled and the document can be made available to only the people who are supposed to be in the loop.
☞ Data Security
All transactions will take place in encrypted mode and thus ensure security from data breaching and manipulation.
Validity of Electronic Signature PDF
With an increase in globalization, adding an electronic signature to PDF documents is gaining more and more importance. They remain valid and legal across government, private and individual sectors.
The ability to handle things remotely has made it a prime choice in many areas like hiring, overseas business, admin tasks, etc.
e signature can be used to legalize almost any kind of document including salary slips, rental agreements, recruitment letters, legal contracts, NDAs, permission letters, and application forms.
Looking For eSign PDF Free Feature?
There are ample platforms available that offer Online signature facilities.
However choosing one that offers the maximum benefit of electronic signature, like WeSignature, would be the best deal!
Best electronic document signing software offers many attractive features in addition to the e-signing facility.
At WeSignature, you can;
Customize the document to request the sign at definite places of choice.
Receive payments while getting signed.
Retrieve the transactions from the archive to facilitate auditing.
Send reminders and cancel requests on the go.
Set multiple levels of authentication.
Leverage the benefits of cloud-based data management.
Free recipients from the download-store-upload process.
Why Use WeSignature to Sign a PDF?
1. Easy to Use
If you are working with someone who is in another location and wants to get their signature, WeSignature can do the same for you within minutes. You can sign documents remotely and get them verified over the internet.
The complete process that involves you creating an electronic signature in PDF is transparent and digitized. From creating, sending, formatting, authenticating, and saving, all of it is user-friendly and convenient.
2. Security and Safety
The innovative technology used in online signing keeps the electronic signature safe and secure, this is not true in handwritten signatures. The traditional signatures are often prone to get forged, tampered and misplaced in case an unforeseen event occurs.
3. No Paperwork
It can get pretty draining to deal with heaps of paperwork for businesses and individuals. One can end up wasting a lot of time and energy in paperwork management which can actually be used elsewhere for improving a business.
4. Environment Friendly
You are not the only one who is paying the price for employing obsolete ways that should have been abandoned a long time ago; mankind as a whole is suffering alongside you.
By switching to electronic signatures, you will be helping the environment while also benefiting yourself and those around you.
From the beginning to the conclusion, from creating paper to disposing of it, the environment suffers as a result of your foolishness in not transitioning to better technologies.
Try Best eSignature Tool to Electronically Sign a PDF Document
When selecting a signature tool, the first important factor should be your individual demands. If you merely want to create an electronic signature in PDF and not distribute them, modify them, or collect numerous signatures for a single document, tools like Adobe Reader and Preview will suffice.
Any additional functionality will need the selection of a solution with a bigger number of features.
A smart electronic signature tool like WeSignature can substantially minimize the amount of time you spend delivering and collecting signatures, while also adding an additional degree of protection.
Tracking, editing, and interfaces with other applications increase productivity even further.
Summing Up – How to Electronically Sign a PDF Document?
The global implementation of creating electronic signatures in PDF is rising every day because of the features like ease of use, quick return on investment, and the time that it saves.
The manual signing of documents is soon going to be replaced completely by the best e signature software for small businesses.
If you haven't yet explored the use of online signatures and the services Wesignature offers then we suggest you do the same and run parallel with the developing world.
You will discover that the process is extremely simple.
Note: At WeSignature you can add an electronic signature to a PDF document free for 30 days.
You can explore all the features of the platform during this period to determine which package suits you the best.
Once experimenting on design documents free version, you can then go for the purchased plan and give your business a new boost!
FAQ – How to Create an Electronic Signature in PDF?
1. Is Electronic Signature in PDF Acceptable?
Yes, electronic signatures are legal in all 50 U.S. states, and state laws treat them the same as handwritten signatures. In other industrialised countries, electronic signatures are as legally binding as handwritten signatures and paper documents.
2. When can You use Electronic Signatures in PDF?
You can use and insert electronic signatures in PDF on every business document or financial transaction nowadays. This includes sales contracts, transfer requests, and SEPA orders in the banking industry, as well as HR papers (employment contracts, modifications, yearly appraisal interviews, etc.).
3. Who can Certify an Electronic Signature in PDF?
An individual or organization can request an electronic signature certificate from a registration authority in order to electronically sign a document or other asset. If the request is accepted by the registering authority, the certification authority will provide the sender with a private cryptographic key and the verification authority with a public key.
4. How do I Create an Electronic Signature in PDF?
There are numerous methods for signing a PDF using a digital signature. Electronic signatures in PDF files can be created with the help of software and apps like Wesignature. Make sure that your signature is verified by a certificate authority when you use Wesignature.