We use word documents on an everyday basis for carrying out various activities. In the business processes, there is a need to sign a contract, offer letter, or non-disclosure agreements by creating a word document often. These days, using an electronic signature in a word document makes that easy.
It's simple to add an electronic signature to a word document using a credible electronic signature service. In a few steps, you can create an electronic signature and close the deal effectively.
In the business world, this can reduce the turnaround time effectively and increase your revenue as well.
Today, we'll focus our attention on all of the major steps to create an electronic signature in a word document. These steps will help you in understanding how you can create an online signature and fulfill your purpose.
Say goodbye to compiling heaps of paper documents. With the adoption of electronic signature services such as WeSignature, you can make the online document signing an easy process and come back to other important tasks. To know more, click here.
Supplement Your Remote Working and Go Paperless With E-Signature Adoption
WeSignature is an electronic signature service for small businesses that enables quick, productive, cost-effective, and legally compliant document signing process. Adopt this solution today and transform your business completely.
Why Use Electronic Signatures?
The adoption of electronic signatures is an essential up-gradation to enhance the workflows. Whenever a company integrates e-signature technology into an applicant tracking software, the processes become much simpler and more effective.
The ability to create an electronic signature in word electronically widens the scope of work for many institutions and organizations.
The use of online signatures enables one to close deals and contracts remotely without meeting personally. In addition, the documents can be stored electronically as well.
In case you haven't already adopted the WeSignature, it's time that you take the leap and give your venture the success it deserves. With the adoption of this electronic signature service, you will empower your company processes as you will be able to add an electronic signature to a word document.
Why Add an Electronic Signature to a Word Document?
Microsoft Word is a globally known word processing software application used by businesses and individuals all over the world.
Many people use it on a daily basis. In the past, people have been creating word documents and printing them for getting wet signatures.
However, with the ability to add an electronic signature to a word document, these people have the benefit of increasing the speed and efficiency of official documentation.
The great advantage of creating an electronic signature in a word document is that many people already use e signature software for small businesses to create and edit documents.
However, one must ensure the use case of e-signatures before going ahead with this solution.
The Usage of Electronic Signature in Word Document
The most commonly used electronic signature format is in the form of a word document. For instance; in addition to make an electronic signature in Word, one can also request to add an electronic signature to a word document, a simple picture, an excel file, or any text document.
WeSignature's Electronic Signature Allows You to:
Sign multiple documents at a lesser cost and time by using the digital software application. This additional time and cost can be used for focusing on other important things for the business.
To make a business sustainable then it is important you adopt paperless technology.
Eliminate the need for hard copies at any time, which means eliminating paperwork and making it easier.
Using the electronic signature in word, you can work on any device you wish for signing the documents. You do not even have to be in the office to be able to verify the document. If you consider then the representatives of many professions choose to work from home.
This is because the professionals cannot be in one location at all times and hence, it is important that the work is done flexibly. To add an electronic signature to a word document, all you need is a device and seamless access to the internet.
Make sure that the software is compliant and secures your information so that the document that you are working on is safe.
The signature should be done electronically based on modern encryption standards so that the electronic signature process is legally binding.
Benefits of Adding Electronic Signature to Word Document
Let's take a look at the benefits of electronic signatures in word documents.
1. Secure
The data exchange is completely safe on the e-signature platform. If you have chosen a credible platform then data privacy and compliance are guaranteed. All files are saved on the cloud and there is no chance of tampering or forging them.
2. Editing Documents
Other than signing online, the e-signature platform also allows you to edit documents. You can add texts, checkboxes, dates, etc. According to what your preferences may be, you can make changes to the word documents whenever you want.
3. Sign In Any Way
You can insert an electronic signature in a word document in any way you wish. There are three different options to adding an electronic signature to a word document. You can choose to draw, type, or scan an image of your signature.
4. Eco-Friendliness
Adding an electronic signature to a word document allows you to reduce paper clutter while also helping the environment.
While being totally paperless is a pipe dream, abandoning paper signatures can be a modest but important step in that direction, especially if it is accepted by the majority of firms.
Why Is It Better to Add Electronic Signature to Word Document?
There are a number of systems available for producing and signing papers online. These platforms offer a far larger set of useful capabilities, making it quite straightforward to add an electronic signature to a Word document.
WeSignature eSign software stands out as a promising option. This platform provides users with an extensive database of templates, specifically designed for diverse corporate use cases. Utilizing WeSignature allows for the swift creation of high-quality, professional contracts, making it a noteworthy alternative to DocuSign.
On these dedicated online digital signature software, adding an electronic signature to a Word document is simple, with user-friendly interfaces and one-click addition frequently provided.
After the document has been signed, it may be forwarded to the appropriate person immediately through the program. Once the person receives the document, it can be signed within a few minutes.
Viewer metrics like how long a recipient spent on each document, how long it took to perform a signature, and more are automatically collected and sent to the sender.
This data clearly demonstrates what works and what doesn't for their clientele, allowing businesses to fine-tune their materials and increase their efficacy over time.
Investing in specialized electronic signature software online can transform how you sign a Word document and expedite your whole document management process because of these amazing capabilities.
Future of Adding Electronic Signature to Word Documents
Microsoft Office has been the most widely used office suite for about a decade now. It's successful in part because it helps people accomplish their tasks with a minimal learning curve.
Most people use Microsoft Office products to create and edit Word documents, Excel spreadsheets, PowerPoint presentations, and Outlook emails. No matter what the need of a person may be, the use of Word documents is highly prevalent as it helps to solve many factors.
There is always some confusion among people who are not tech-savvy as to whether they can use electronic signatures to word documents when they're creating contracts and other legal documents, or when they need to send official letters and emails which require signatures.
Is it safe to put an electronic signature online?
The problem with the current system is that it is very hard for people to generate an online signature and maintain it. This is why new technology companies are trying to change the way we do business as they introduce how to electronically sign a word document.
The digital process aims to eliminate the need for a paper-based process, which is costly and slow, by providing an easy and secure digital platform to create and manage electronic signatures.
With the legality of electronic signatures, you can make an electronic signature in word effectively.
How to Create an Electronic Signature in Word With WeSignature?
Wesignature's seamless process will simplify your workflow and help you create a document that can be signed electronically to save you time and improve efficiency.
Below are the steps which will help you to make an electronic signature on word document: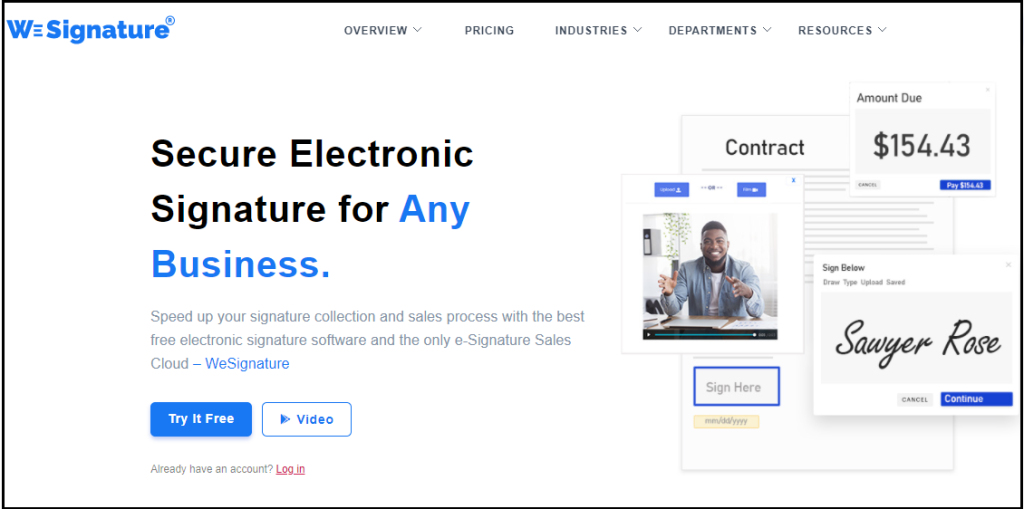 2. Click to Login & Create a New Account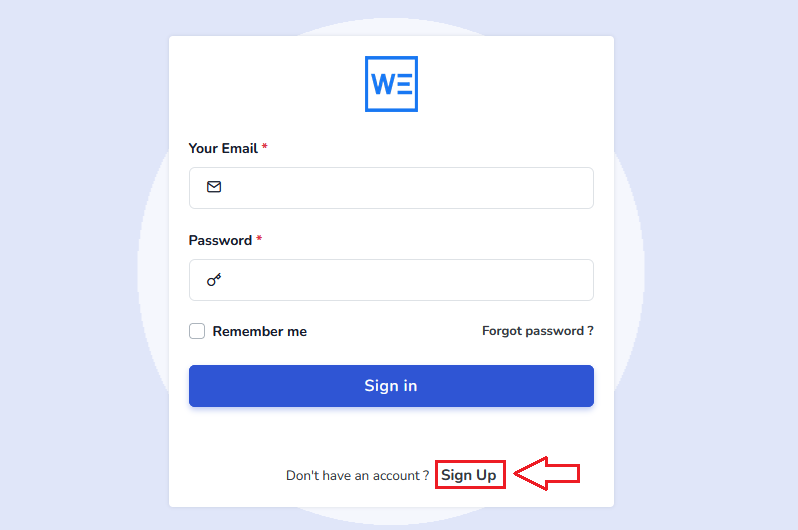 If you are new to WeSignature or you do not have an existing account, you can simply click "Sign Up" and create your account name for free by filling in the required fields such as your name, country, mobile number, personal email, company, etc. and password. (I recommend a strong password).
After you have successfully filled in all the data, click "Register".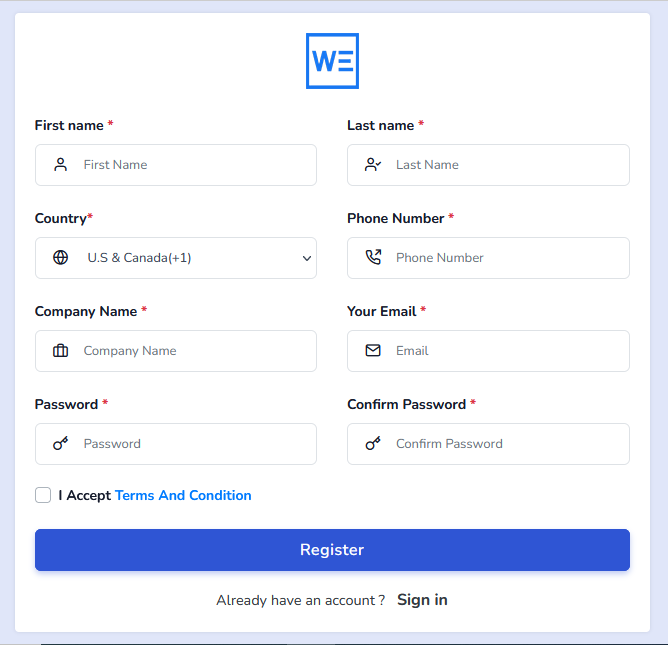 Creating an account will help you to add an electronic signature to a word document and enjoy a one-month free trial.
3. Upload File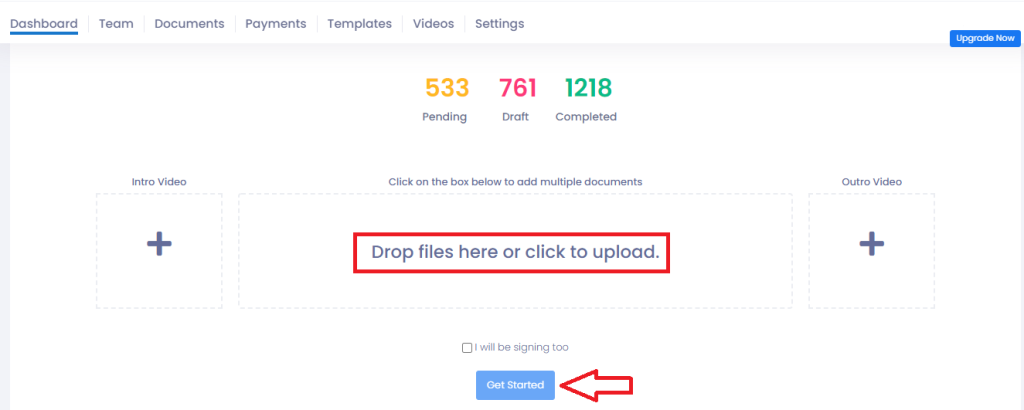 You can start by uploading a word file on the e-signature platform. The word document will be available to get signed as soon as the upload is complete.
4. Apply Changes
After the document has been uploaded, you can edit the document according to your requirements. You can add text, select checkboxes, insert the current date, and even initialize the process.
5. Create Online Signature
Move the mouse over areas where you wish to apply the signature and click on the document. You can sign the word document in any way you want. You can draw an e-signature, type your name, or scan an image.
6. Fill In Details
As mentioned earlier, you can add in details you want to any page. Just choose the function you wish to use, select the area, and add details.
7. Download Document
When the e-signing process is complete, you can download the document. This will also save the file.
Finally, Once all the above steps are completed he/she will receive another email of the completed document.
As you can see, it is pretty simple to add an electronic signature to a Word document.
The key is getting your signing device ready and downloading the right application.
Once you have done that, just follow the above steps and your document will be signed in no time!
Limitations of Add Electronic Signature in Word Document
The Word Documents was not intended to be used as free electronic signature software, and although it may be used to electronically add signatures, there are several deficiencies in the software's capabilities that restrict its potential utility.
The most significant drawback of utilizing Word is that it is unable to do functions that other applications can perform once you have collected a signature. Documents are signed to indicate agreement with the contents of the document and to provide credibility to the document, which often necessitates its distribution to additional intended recipients.
Consider the scenario in which your organization wants to deliver a business proposal to potential buyers. You must first prepare the document, get it signed electronically, and then send it out to a large number of people, potentially hundreds.
Those who get it must then read it, determine whether or not they are interested in it, then sign it and return it to the sender. To achieve the best results, it would be ideal if you could immediately distribute your document to a list of recipients, and then monitor how each recipient saw the paper before they signed it. Unfortunately, Word does not support this.
When it comes to adding electronic signatures to word documents, Word isn't the quickest option. However, if you're a company or department sending a lot of proposals and quotations that need to be signed on a regular basis, it might be time-consuming to utilize Word.
Final Words – How to Create an Electronic Signature in Word
Electronic signatures have revolutionized the way businesses and individuals conduct business. The big question is whether the built-in tools in Word are adequate for your requirements.
These tools will likely suffice if all you want to do is add simple images to the end of documents or provide basic electronic signature functionality.
A "smart" signature app, on the other hand, maybe the way to go if you require a more extensive set of capabilities. WeSignature, for example, allows you to track and store signatures while also adding security and integrating with your existing tech stack.
If you are not using smart applications yet, you'll be astonished at how much easier life has been and how much time has been saved.
Finally, provide your fast-paced teams with a simple, sophisticated all-in-one solution for easily managing document creation, editing, and signing.
FAQ – How to Create an Electronic Signature in Word
1. Is it a good idea to add an electronic signature in Word?
As we know there is no other Word processor as widely used as Microsoft Word, which is why it has become the dominant approach for document creation in all fields and all parts of the world.
Due to its popularity, many people opt to utilize Word as the platform for collecting electronic signatures on their Word documents.
The fact that most organizations currently use Word to create and edit documents. It is the biggest advantage to integrating online transparent signatures there. Wesignature is one of the best software to add a signature to a Word document.
Before implementing a signature in Word, make sure your company can accept electronic signatures in Word. Even though this is the most obvious benefit.
2. How Can I Freely Add a Signature to Word?
Using a scanner or a phone camera, you can add a signature to a Word document for free. You may easily add your signature by snapping a picture of it and transferring the image to a computer. Open Wesignature and use "Insert" to add the documents. There is usually a 30 days free trial period for inserting signatures in Word.
3. How do I Electronically Sign a Word Document?
To try out Wesignature for free, simply sign up for an account. Choose File > New > Sign a Document and then select the Word file to upload. After clicking Sign and reviewing the document, you can click Continue to permanently save your changes.
4. How can I make an electronic signature?
Create electronic signatures easily with our WeSignature. Simply upload your signature, choose the document you want to sign, and place your signature where required. Our product ensures the security and authenticity of your signature, making it legally binding. Sign documents hassle-free with just a few clicks. Try it now and experience the convenience of electronic signatures.
5. Do we add signature in Google Docs?
Yes, you can add signature in Google Doc. Using DocuSign add-on or insert an image. But for a more professional and secure option try DocuSign competitors. That's free, easy to use, and streamlines the signing process. WeSignature is not providing this feature right now but it will soon integrate with Google Docs.